Article by GrassrootsHealth
When it comes to how vitamin D supplementation affects vitamin D serum levels, it is important to recognize the wide range of serum level responses that can be produced at any specific supplementation amount. It is because of this wide range in response that testing vitamin D levels is essential, versus blind supplementation.
In an analysis of vitamin D serum levels and daily supplemental vitamin D intake amounts for 7,324 D*action participants, we found that while average serum level rises with increased intake, there is a wide range of individual serum levels at any given intake amount, as illustrated in the chart below.
For example, with a supplemental intake of 4000 IU/day, serum levels were observed from 10 ng/ml (25 nmol/L) to 150 ng/ml (300 nmol/L), thus the importance of measuring your vitamin D level twice a year.
The Grassroots Scientists Panel of 48 expert vitamin D researchers have agreed that the serum level should be between 40-60 ng/ml (100-150 nmol/L) for general good health.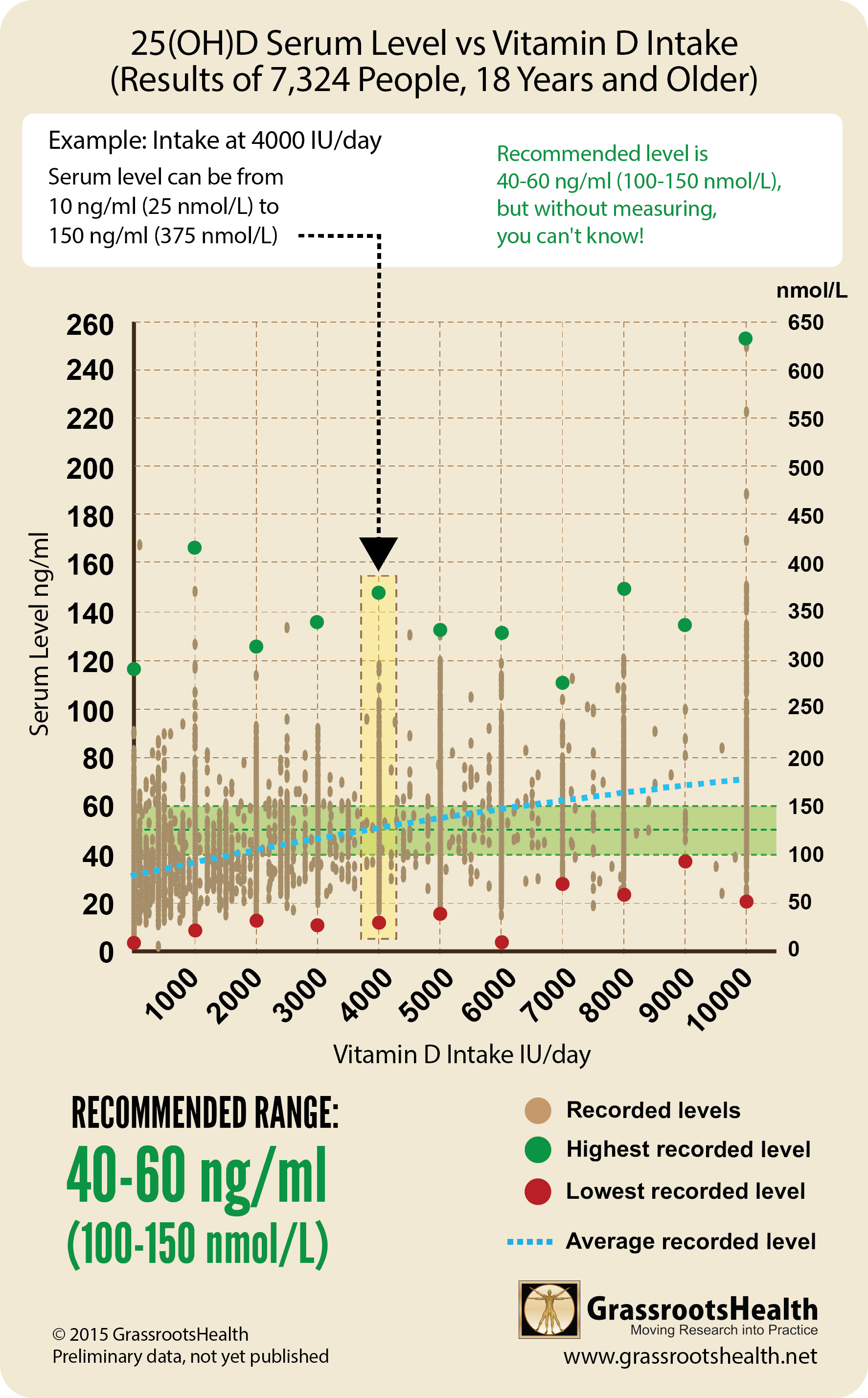 A very big thank you to all D*action participants who have contributed to this research.
Are you blindly supplementing with vitamin D?
Testing your vitamin D level regularly and taking steps to keep it at a target level of 40-60 ng/ml (100-150 nmol/L) is important for all stages of health. Through GrassrootsHealth Nutrient Research Institute, you can also test your omega-3 status, inflammation levels, and levels of essential nutrients and toxins. Find out your levels today! Make sure you track your results before and after, about every 6 months!
Article originally posted at https://www.grassrootshealth.net/blog/dont-assume-vitamin-d-level-ok-heres/