Find a Spa Services Salon
Spa Services
At Your Sunbed Salon
Along with UV and spray tanning, many professional tanning facilities provide a number of wellness and beauty spa services that can improve your tanning experience and help you look and feel your best. Your trained tanning operators can help you determine what options will best complement your lifestyle and help you achieve all your beauty and wellness goals.
Contact your local JCTA-member salon to find out what additional services they offer.
Red Light Therapy
Professional tanning facilities aren't just knowledgeable about giving you the best tan – they're skin care experts too! Red Light Therapy is a revolutionary skin care treatment process that utilizes a deep-penetrating red light spectrum to rejuvenate skin. It's a gentle, yet efficient treatment that stimulates collagen and elastic protein production, as well as healthy oxygen and nutritional molecules. Your professional salon can recommend a program that will improve and maintain your skin tone and texture, smooth and reduce fine lines and decrease occurrence of facial and body acne.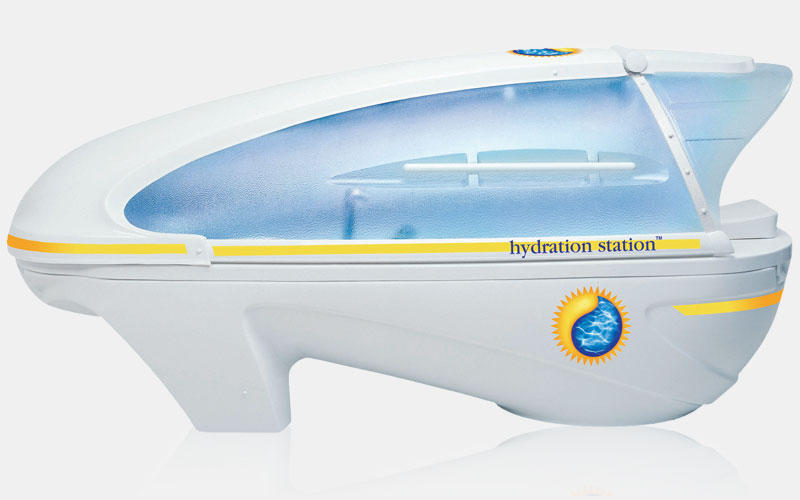 Hydration Pod - Hydrofusion
Stream Jet Sauna
Skin hydration is a key component of maximizing tanning results and maintaining a youthful appearance. That's one reason why many professional salons often feature Hydration Pod services, but it's certainly not the only one. Along with blanketing your skin in tan-absorbing moisture, other benefits include improving skin tone and texture, stimulating cellulite, burning calories, improving blood circulation and more. And, of course, hydration is also crucial for your spray tan prep! Just lay back and relax in the luxurious vibrating massage bed, surrounded by aromatherapy stream, and experience the advantages of four unique programs, including visible light therapy.
Cocoon Wellness Pro
For a complete spa experience in one machine, some professional salons are now offering the Cocoon Wellness Pro system, featuring eight wellness technologies. Fifteen to 30 minute sessions in the Cocoon help create the perfect relaxation experience for optimum wellness renewal, rejuvenating meditation and other refreshing mindfulness benefits. Soothing massage vibration, aromatherapy and peaceful calm make every experience serene, whether your goal is wellness, relaxation, fitness, weight management or a simple power nap.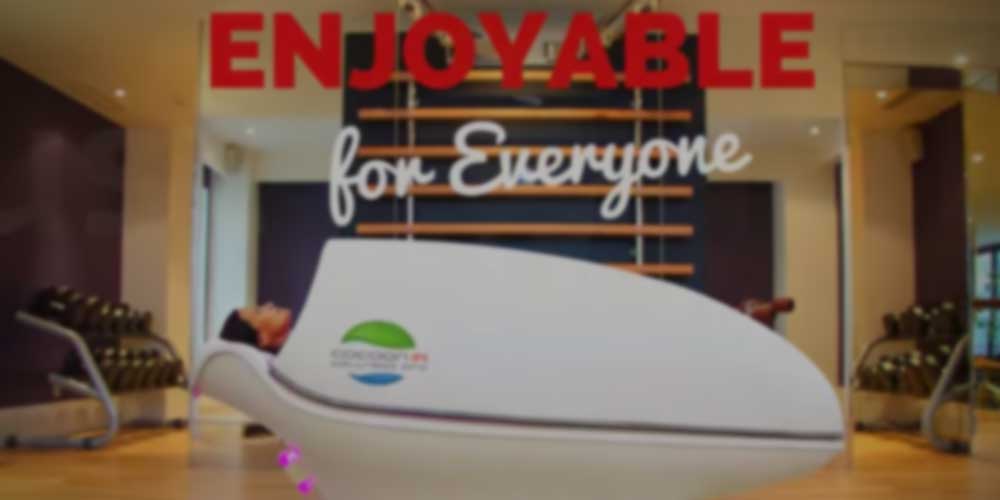 Laser Light Therapy
For those looking for a more customizable beautification experience, Laser Light Therapy is performed by estheticians at some professional salons, using handheld units. With different light frequencies for different results, Laser Light Therapy could be the right option for you if you're seeking hair removal and reduction, body contouring, or reduction of wrinkles, fine lines, cellulite, lesions and acne.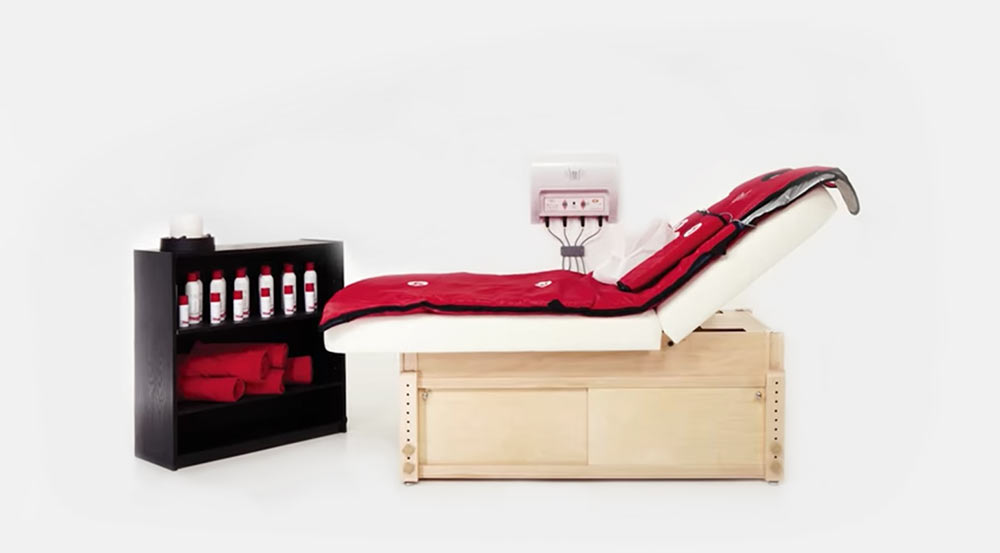 Body Wrap
Infrared body wraps are another simple way to utilize the various benefits of infrared heat therapy in your professional tanning salon. These systems envelop the body in an open setting, producing natural body heat that induces calorie-consuming sweating, increased metabolism and normal insulin levels that lead to weight loss. Additional benefits include pain relief, relaxation, cellulite reduction, skin rejuvenation and body contouring.
RedFit Workout & Recovery Room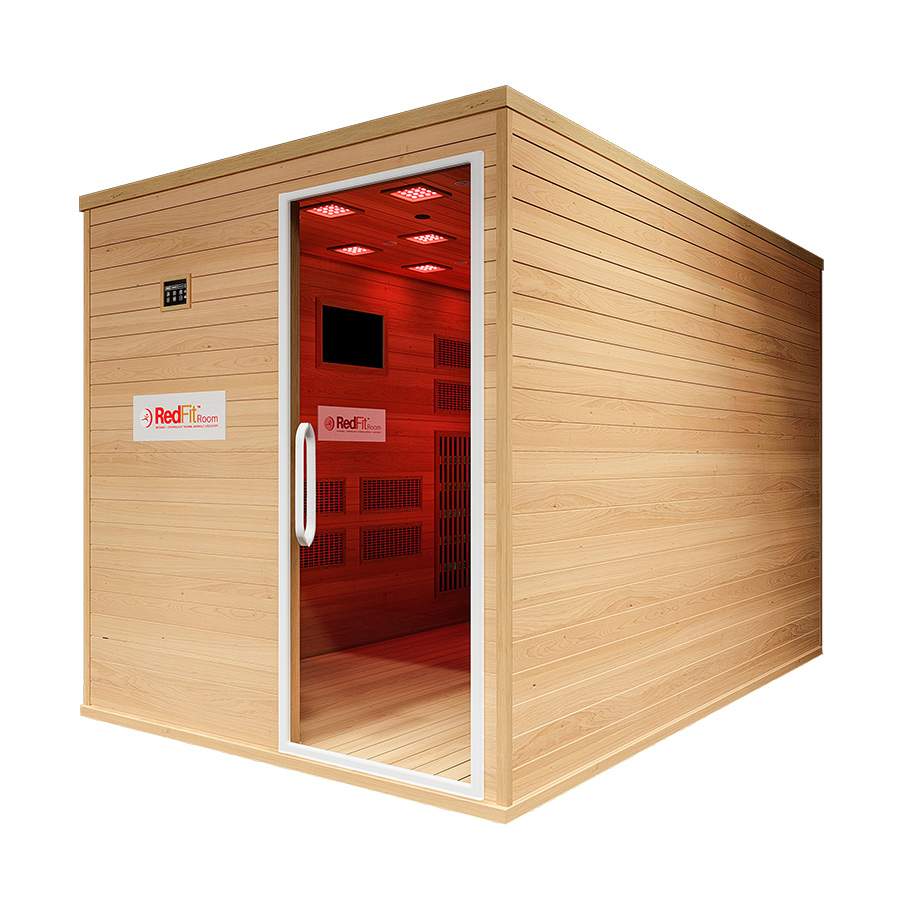 RedFit™ is the first Thermal Workout Room with infrared heaters, full spectrum ambient lights, RED ambient chromo-lights, natural Jade gemstones, and Himalayan Salt-Cave tiles. RedFit™ thermal workout sessions help you sweat more, burn more, and achieve more results in less time.
Watch the RedFit Video