Celebrating Sunshine Month with a special promotion all month long, and the announcement of our new sunshine eBook!
---
It is because of Sunshine Month that May is one of our favorite months at GrassrootsHealth.
Sunshine exposure is vital to our health, but in today's society, many fear the sun, and as a result, are missing out on reaping the health benefits of sensible sun exposure.
The purpose of Sunshine Month is to educate about how to transform that fear into knowledge of how to use it sensibly – to tailor its use so that each person can learn how to maximize the benefits of sunshine exposure while minimizing their risks.
To support these educational efforts, we are happy to announce the release of our latest eBook:
ADD YEARS TO YOUR HEALTH WITH SUNSHINE: How to Safely Use Sunshine for Longevity, Health & Joy!
Get the eBook for FREE with any purchase or donation made during the entire month of May!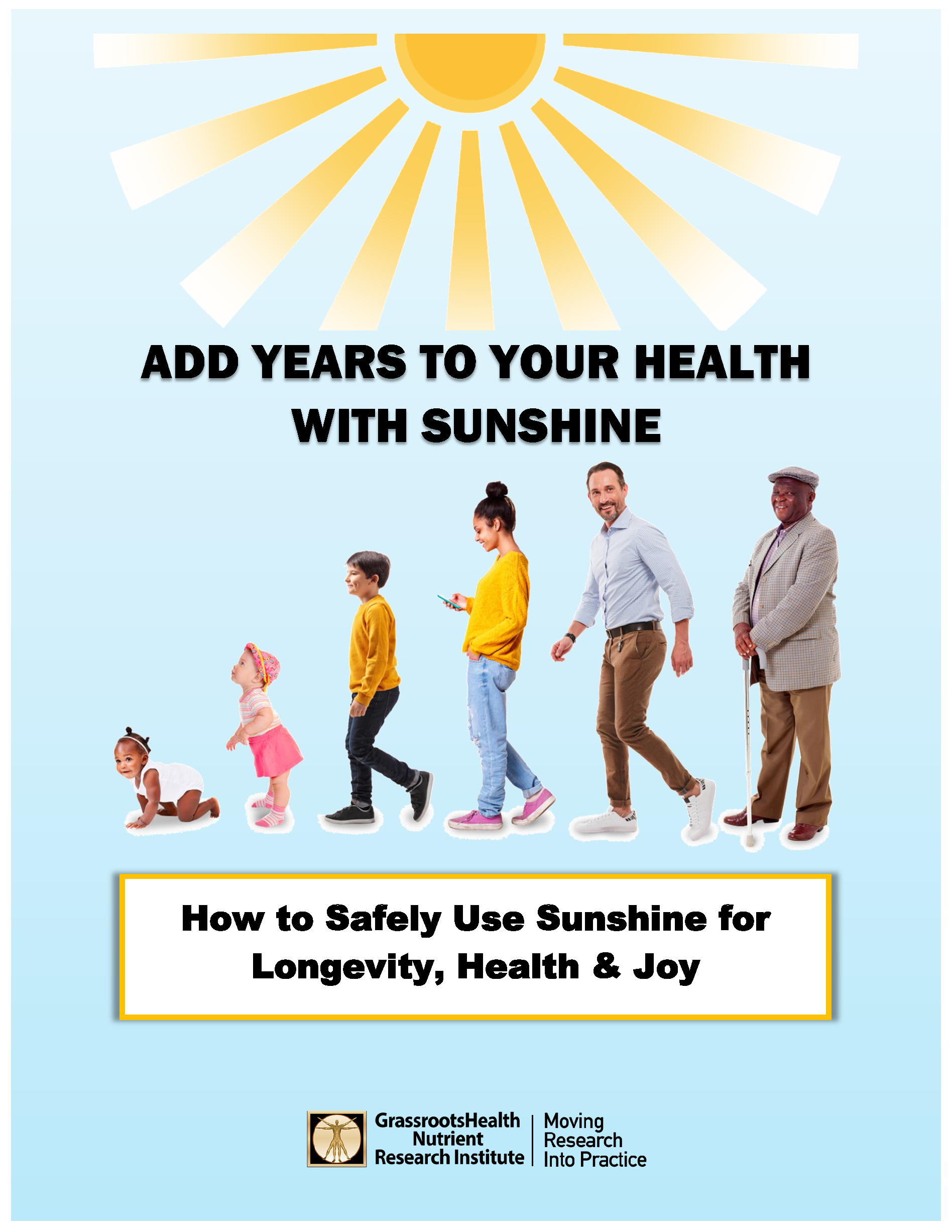 ---
Get 10% Off this Month, PLUS the Free eBook!
Use the code SUNMONTH23 to receive 10% off your home test kit purchase, along with the free eBook! (Discount is not valid on the T1D Prevention Test Kit.)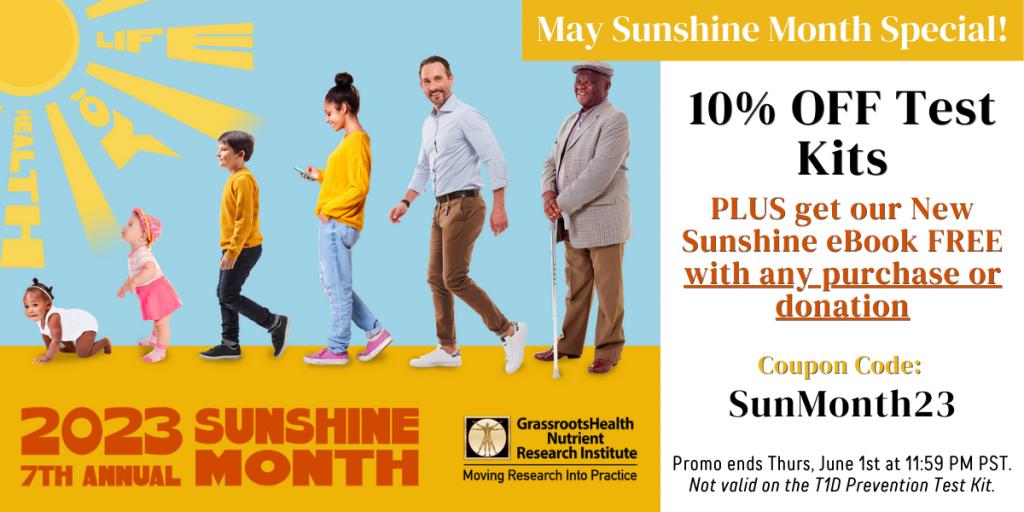 ---
Here are some of the topics covered in the eBook, which we will also be discussing in detail this Sunshine Month:
Sunshine: A Historical Perspective
How sunlight exposure has been utilized to cure disease and improve health throughout history
Research on the Health Benefits of Sunshine Exposure
Exposure to sunlight plays a very important role throughout life. Safe, sensible sunshine exposure (in proper doses, without burning) has a positive impact on health and may protect against disease, even helping people live longer.
What Happens in Our Bodies when we are Exposed to Sunshine?
Energy from sunshine produces many bio-chemicals in the body (much more than vitamin D!)
The Sunshine Vitamin: Vitamin D
Learn why vitamin D is important, how it is made, and how the vitamin D made upon sun exposure differs from the vitamin D you get from supplements… And, did you know? Vitamin D deficiency can also indicate sunshine deficiency!
How to Make Vitamin D from the Sun
When it comes to using sunshine exposure to create vitamin D, it is essential to do so purposefully and mindfully. The potential harms of excessive UV exposure (the kind that results in sunburn) include the increased risk of melanoma and other forms of skin damage, so it is essential to keep in mind the number one rule of safe sun exposure: Don't burn!
Maximize the Benefits while Minimizing the Risks of Sun Exposure
To safely reap the health benefits from sunshine exposure, it is essential to understand what excessive exposure is, the possible harms of excessive UV exposure, and how to avoid them.
Stay tuned for more from Sunshine Month!
Measuring Your Level is Important… Are You Getting Enough Vitamin D?
The only way to know is to test your levels! Testing versus blind supplementation is essential to know for sure if what you are taking is the right amount for you. Once you test your vitamin D (and other levels) to know where you are NOW, you can account for any upcoming changes in lifestyle over the coming months and adjust your intake to reach (or maintain) your targets.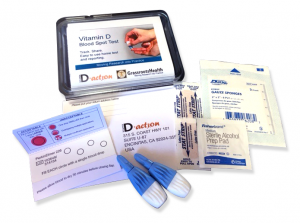 Measure your:
Vitamin D
Magnesium PLUS Elements
Omega-3 Fatty Acids
hsCRP
HbA1c
TSH
Type 1 Diabetes Autoantibodies
Did you know that each of the above can be measured at home using a simple blood spot test? As part of our ongoing research project, you can order your home blood spot test kit to get your levels, followed by education and steps to take to help you reach your optimal target levels. Start by enrolling and ordering your kit to measure each of the above important markers, and make sure you are getting enough of each to support better mood and wellbeing!
Create your custom home test kit today. Take steps to improve the status of each of these measurements to benefit your overall health. With measurement you can then determine how much is needed and steps to achieve your goals. You can also track your own intakes, symptoms and results to see what works best for YOU.
Enroll in D*action and Test Your Levels Today!
How Can You Use this Information for YOUR Health?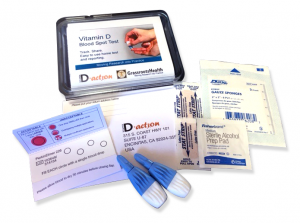 Having and maintaining healthy vitamin D and other nutrient levels can help improve your health now and for your future. Measuring is the only way to make sure you are getting enough!
STEP 1 Order your at-home blood spot test kit to measure vitamin D and other nutrients of concern to you, such as omega-3s, magnesium, essential and toxic elements (zinc, copper, selenium, lead, cadmium, mercury); include hsCRP as a marker of inflammation or HbA1c for blood sugar health
STEP 2 Answer the online questionnaire as part of the GrassrootsHealth study
STEP 3 Using our educational materials and tools (such as our dose calculators), assess your results to determine if you are in your desired target range or if actions should be taken to get there
STEP 4 After 3-6 months of implementing your changes, re-test to see if you have achieved your target level(s)